Carson Au / 1990 Nissan 240SX aka The Red Dragon / G Stock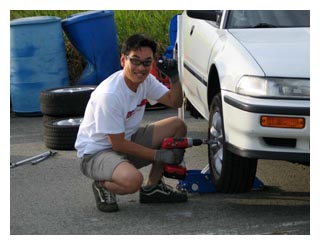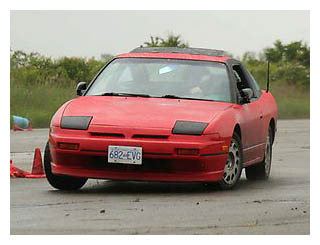 ---
As the Chief of Photography for VCMC events and the original creator of the Team1 concept, Carson has moved up to a more of a dedicated race car, the '90 240SX, after campaining his STS 1996 1.6EL in the 2006 UBC Slush Series. In his first year of autoxing 2006, he is already a threat in the G-Stock class, arming himself with R-Comps, Koni Yellows, and the lock-up friendly HPS Hawk race brake pads.

Mr. Au has consistently been improving throughout the 2006 season, trying out new driving techniques and having co-drivers give him the needed feedback and advice to take him to the top of G Stock. He participated in VCMC's Novice Championship Tour and finished with a respectable 8th place with 376.342 points. As well, he went down to SCCA's National Tour in Packwood, WA and came back with a 10th place finish and a life/autox changing experience that was very apparent in the autox's that followed.

He is probably best known to the club as the photographer of the popular panning shots as cars shoot by the cones on course. As well, he is a walking example for the need to drink lots of water on a hot summer day at Boundary Bay.



Notable extras:
-Chief of Photography at the 2006 Kumho Super Challenge
-Him and his photography team (Team1) shot a remarkable 945 photos at the VCMC NCT Event #4.


---